Back To Blog
A transponder key is a device that communicates with a car's engine. Unlike the ordinary car keys, it comes with security features that prevent auto theft. Since, it can remotely lock and unlock the car; it makes your driving experience a lot easier. However, in the event that your transponder key no longer works, it becomes a huge problem. Fortunately, one can fix it alone before resorting to an Automotive Locksmith.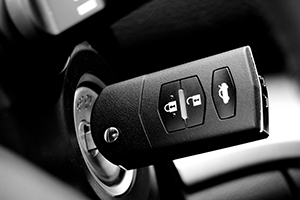 Check the Battery
The first thing to do is to check your battery through proper observation. If you are frequently using the car, you'll always have a chance to determine whether or not it is responsive.Since transponder keys needs to emit a frequency for it to work, the amount of electrical power is a requisite. If the power is low, it may emit a signal on a different frequency. Therefore, your car does not recognize it and therefore will not react. If this happens, replace the battery in your local stores.
How to Replace Battery
Before purchasing a new battery at any auto parts or vehicle dealership,you should know the model, make, and year of your vehicle because these details are required for battery replacement. Afterwards, open the remote with a butter knife or a screwdriver. After opening, replace the battery, close the remote and test the new battery. In less than ten seconds, turn your car on and off at least eight times to reprogram the radio frequency between the key and your car.
Chip Damage and Key Replacement
A transponder key contains a microchip with a serial number on the upper part of the key, which is programmed by the manufacturer to respond only to the car to which it belongs. If a transponder chip does not work due to various reasons,or if you need to replace the car key,reach a Car Locksmith to deactivate the old key and provide the right ignition key replacement.
Additional Help
A transponder key is extremely important for acar's security. If you are caught with issues that require specialized skills and knowledge, Locksmith Katy provides clients quality lock and car key services. An accomplished team of experts specialize in the repair of car keys and remotes. We believe that time efficiency is crucial for customer satisfaction which is why our locksmith services are outstanding. Rely on us to operate around the clock and take your call at any time.